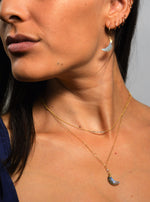 Northern Lights Collection
The Northern lights are one of the most amazing natural phenomenons we have ever seen. The bright colors dancing accross the sky, drawing themselves into lines and flipping and turning before they dissapear into the night sky. 
Labradorite reminds me of the northerns lights because of the flash of varying colors, and how it naturally catches the light. Let these pieces make you feel as spectacular as the Northern lights.