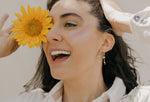 The ⚡ Bowie Collection ⚡
This Collection is made of Ethiopian White Opals, and Black Opals. 
These stunning precious gemstones capture light and reflect the most stellar colors.  The collection's name was inspired by the gems' natural iridescent shimmer, similar to the shine from our beautiful stars and universe. It reminds us of the talented, intergalactic David Bowie.